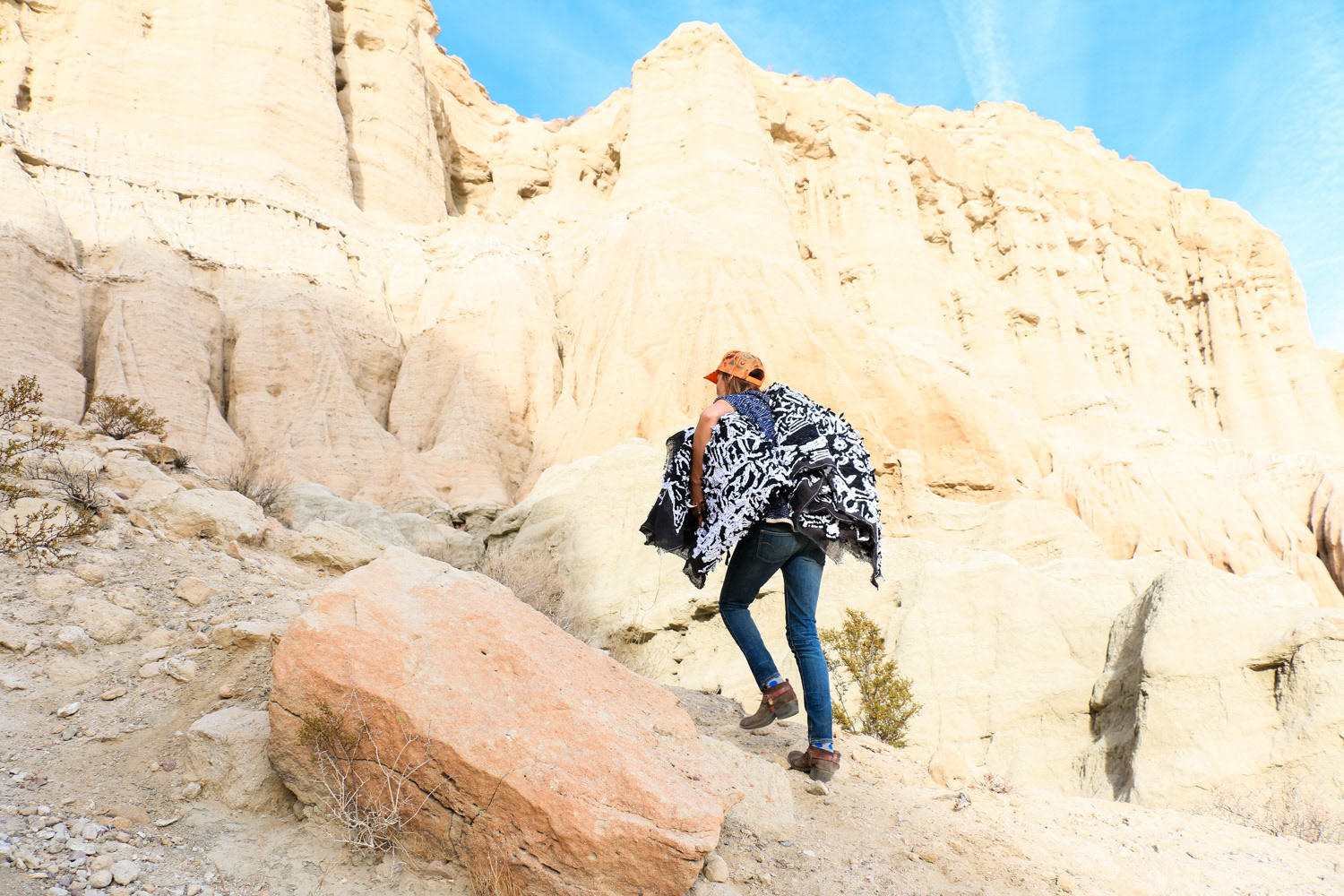 Informed largely by the language of painting, and constructed through traditional folk method of rag rug hooking used by her grandmother, Aanrud's meandering abstractions are at once a slowly stitched drawing, fabric mural, a tactile landscape, and labyrinthine maps of the act of thinking. Intuitively constructed, each piece unfurls as an exquisite corpse where repetition becomes meditative, and time and consciousness are measured in increments. A psychedelic palette reflects the surrounding city of Los Angeles where strange succulents and smoggy pastel sunsets cast shadows on a graffitied cityscape. Liv weaves personal symbology, words, patterns, and worries into a reverie that slow a distracted mind, and recall her Midwestern upbringing on a farm where work provides purpose.
Liv Aanrud earned a B.F.A with a painting emphasis at the University of Wisconsin-Eau Claire in 2001. She was awarded a full scholarship and teaching fellowship at Mason Gross School of the Arts at Rutgers University, where she received her M.F.A in 2011. She has taught at ARTworks, teaching mixed media classes to at risk teen girls, and at Santa Barbara City College. Currently she is a teaching fellow at the Armory Center for the Arts in Pasadena.
Aanrud's work has been the subject of one person exhibitions at Steven Harvey Fine Art Projects in New York, Sierra Nevada College in Lake Tahoe, TSA-LA in Los Angeles, John Davis Gallery, Hudson, NY, Oasis Gallery, Marquette, MI, and Ochre Ghost Gallery in Duluth MN. She has shown in two person exhibitions at the Anne Reid '72 Gallery in Princeton, NJ, and in various group exhibitions across the U.S, Taiwan and Germany.
b.1979
Lives in Los Angeles, CA
EDUCATION
2011
MFA, Mason Gross School of the Arts, Rutgers University, New Brunswick, NJ
2001
BFA, University of Wisconsin-Eau Claire, Eau Claire, WI
SOLO EXHIBITIONS
2017
Sing into My Mouth, Arvia, Los Angeles, CA
2016
Blindsides, Sierra Nevada College, Lake Tahoe, NV
2015
Ravel Ravel, Steven Harvey Fine Art Projects, New York, NY
Hooked on a Feeling, Tiger Strikes Asteroid-LA, Los Angeles, CA
2012
Lake Affect, Oasis Gallery, Marquette, MI
2011
The Thick of Things, Ochre Ghost Gallery, Duluth, MN
Liv Aanrud: Recent Paintings, John Davis Gallery, Hudson, NY
TWO PERSON EXHIBITIONS
2017
Night Moves, Interface Gallery, Oakland, CA
2014
Metamorphosisterz, Anne Reid '72 Gallery, Princeton, NJ
SELECT GROUP EXHIBITIONS
2018
Fragile Rock, TREEHAUS, Los Angeles, CA
Optimist Prime, New City Gallerie, Burlington, VT
The Rag Trade pt 2, Steven Harvey Fine Art Projects, New York, NY
Barrier, Gallery Also, Los Angeles, CA
Displaced Landscapes, Soulangh Cultural Park, Jiali, Taiwan
Feel It....Feel It..... Diogenes Club, Los Angeles, CA
2017
+ - , Gallery Also, Los Angeles, CA
Angstzeiten, Elevator Mondays, Los Angeles, CA
2016
Physical Painting, curated by Jennifer Samet, Maass Gallery, SUNY-Purchase College, Purchase NY
Free Time, pt 1, Steven Harvey Fine Art Projects, New York, NY
Electric Ladyland, Rebel Art Space, Palm Springs, CA
Fata Morgana, Goldmine, Los Angeles, CA
2015
The Midnight Sun, Ms Barbers, Los Angeles, CA
ArtHamptons Art Fair, Steven Harvey Fine Art Projects, Bridgehampton, NY
Voodoo Chicken (--------) No Holds Barred, New York, NY
FiberSHED, Marin Community Foundation, Novato, CA
Painting in Trees, Bushwick Community Gardens, Brooklyn, NY
Thread the Needle, Perry McGrath, Los Angeles, CA
2014
JustMad6 Art Fair, Madrid, Spain
A Gap in the Screen, Taylor University, Upland, IN
Primitive Image, SSS Gallery, Los Angeles CA
Your Attica on the Pacific, Tiger Strikes Asteroid-LA, Los Angeles, CA
Faculty Biennial, Santa Barbara City College, Santa Barbara, CA
Underdonk Selects: Benefit Auction, New York, NY
Novella Gallery Spring Benefit Auction, New York, NY
2013
Invincible Host, Underdonk Gallery, New York, NY
10 Years Too Late, Abteeilum I-A-M Berlin, Germany
2011
In Fixed Territory, at Blurred Boundaries, 460 Main Street,Catskill, NY
Fresh Meat/Young Blood: NJ's New Masters, SICA - Shore Institute of Contemporary Art, Longbranch, NJ
NowHere, Whitebox Gallery, New York, NY
II (MFA Thesis Exhibition), Mason Gross Galleries, New Brunswick, NJ
College Art Association NY Area MFA Exhibition, Hunter College/Times Square Gallery, NY, NY
2010
WLCM BCK, Mason Gross Galleries,New Brunswick, NJ
2009
First Year MFA Exhibition, Mason Gross Galleries, New Brunswick, NJ
Winter Garden II, Riverfront Arts Center, Stevens Point, WI
2008
Party at Phong's Place, Curated by Chris Martin, Janet Kurnatowski Gallery, New York, NY
Visions X, Riverside Arts Center, Stevens Point, WI
Winter Garden, Riverfront Arts Center, Stevens Point, WI
Scrapper, Tomorrow River Gallery, Amherst, WI
2007
Visions VIII, Riverfront Arts Center, Stevens Point WI
2001
Haystack/Mushroom/Muffin - Site-specific installation, The House, Chicago, IL 2001
Paper or Plastic? Foster Gallery, University of Wisconsin-Eau Claire
Arts West Exhibition, LE Philips Memorial Library, Eau Claire, WI
RESIDENCIES
2018
Round Trip Ticket: Los Angeles to Taiwan, Soulangh Cultural Village Jiali, Taiwan
PUBLICATIONS
2016
Spectrum Magazine volume LIX, University of California Santa Barbara
LECTURES
2016
Sierra Nevada College, Lake Tahoe, NV
2014
Santa Barbara City College, Santa Barbara, CA
AWARDS
2015 Teaching Residency, Armory Center for the Arts
2009 Competitive Pool Scholarship TA/GA, Rutgers University
2009 Teaching Assistant Fellowship, Mason Gross School of the Arts
2010 Dadalus Foundation Fellowship Nominee
2001 Helen X Sampson Undergraduate Research Award for Artistic Collaboration